In the new version of the AlmaStart discovery tool, users can find the Collection Search function, which allows them to look up the collections of electronic resources (databases, e-journals, e-books and reference work) subscribed to or selected for their scientific value.
Each resource is presented by an information sheet describing its disciplinary and chronological coverage, how it can be accessed and the maximum number of concurrent accesses allowed.
From the information sheet, users can access the resource directly; if you access it from a network outside the University of Bologna, you will be automatically redirected to the Proxy authentication mask, in order to be recognised as an authorised user.
Search mode
The Collection Search can be queried:
by keywords in the search box

by browsing in alphabetical order (click on the initials below the search box)
by choosing a disciplinary subject from the list available on the page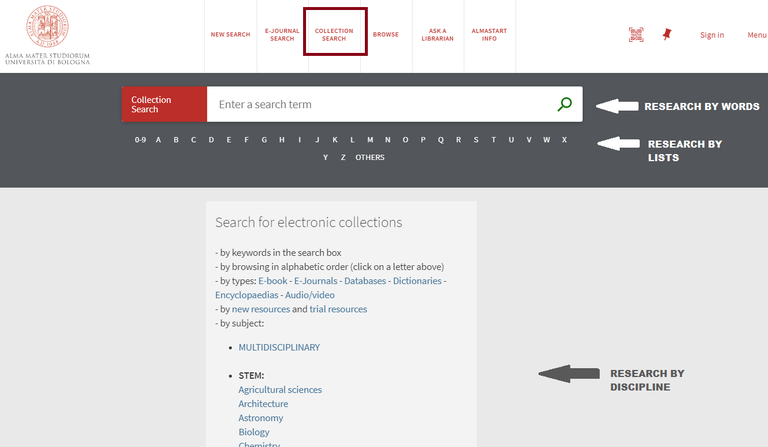 How to access the collections

Users can access the collections:
Online - University: restricted access, granted to authorised users via the University network (from desktop computers or the AlmaWIFI wireless network) or from an external location using the Proxy service
Online - with password: restricted access, allowed only to authorised users in possession of specific usernames and passwords that must be requested from the contact indicated in the information sheet
Tatooweb: web access via the institutional credentials for resources on DVDs or CD-ROMs mainly in the fields of law, engineering and literature
Online - Open Access: Open Access resources, freely available from anywhere without restriction.
NB: for most of the resources an unlimited number of simultaneous accesses is allowed; otherwise, the maximum number of concurrent accesses allowed is specified.